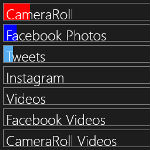 Did you notice that on Facebook, more and more items start moving? I did.
Sure, I already took videos in the 80's and 90's. All of them were recorded on VHS and they still exist somewhere in my parents' home. I think. But they were too bulky to put them into a shoebox. Let alone, take them with me. So maybe that's the reason why they felt less personal to me than still pictures always did. Videos felt semi pro.
The digital age has changed that: Videos are personal now. Wherever you are, you can record videos with your smartphone. Your rather tiny action camera will capture all your runs when snowboarding.  You can share your videos via Facebook. And like all digital memorabilia, videos require little physical space, so you can take them with you wherever you roam.
On top, platform vendors and device vendors such as Microsoft and Facebook have taken care of the format pain. We don't need to think about MPEG4, Quicktime, AVI, or WMV anymore. Instead, we just think about visuals – and every day a larger amount of these visuals starts moving. Interestingly enough, most of us didn't even need to sign up for Hogwarts for that to happen. 😉
Did I mention that starting today, bitsofMine supports video? 🙂
Have a great Summer!
Best,
Harry Potter, ah, I mean, Andreas